For Every Order, We Plant A Tree
Free Shipping on Orders Over $250
Win a £6,000 Adventure Giftcard & Passenger Bundle
Open to UK, Europe, Australia, New Zealand, Canada and USA 🌍 18+ T&Cs Apply
Winner announced at 5PM BTS, Monday 14th Nov 2022
What you win
1 x £5,000 Much Better Adventures Giftcard
5 x £100 Passenger Giftcards
1 x Escapism Changing Robe
1 x Passenger Insulated Jacket
1 x Boondocker Backpack
2 x T-Shirts
2 x Enamel Mugs
1 x Beanie
100 x Native Trees Planted, area of your choice
10 x Acres Rainforest Protected
= £6,000 Bundle
How to enter:
1. Enter your name and email above.
2. Earn extra entries by referring friends and joining Passenger communities.
3. Winner announced at 5PM BTS, Monday 14th Nov 2022.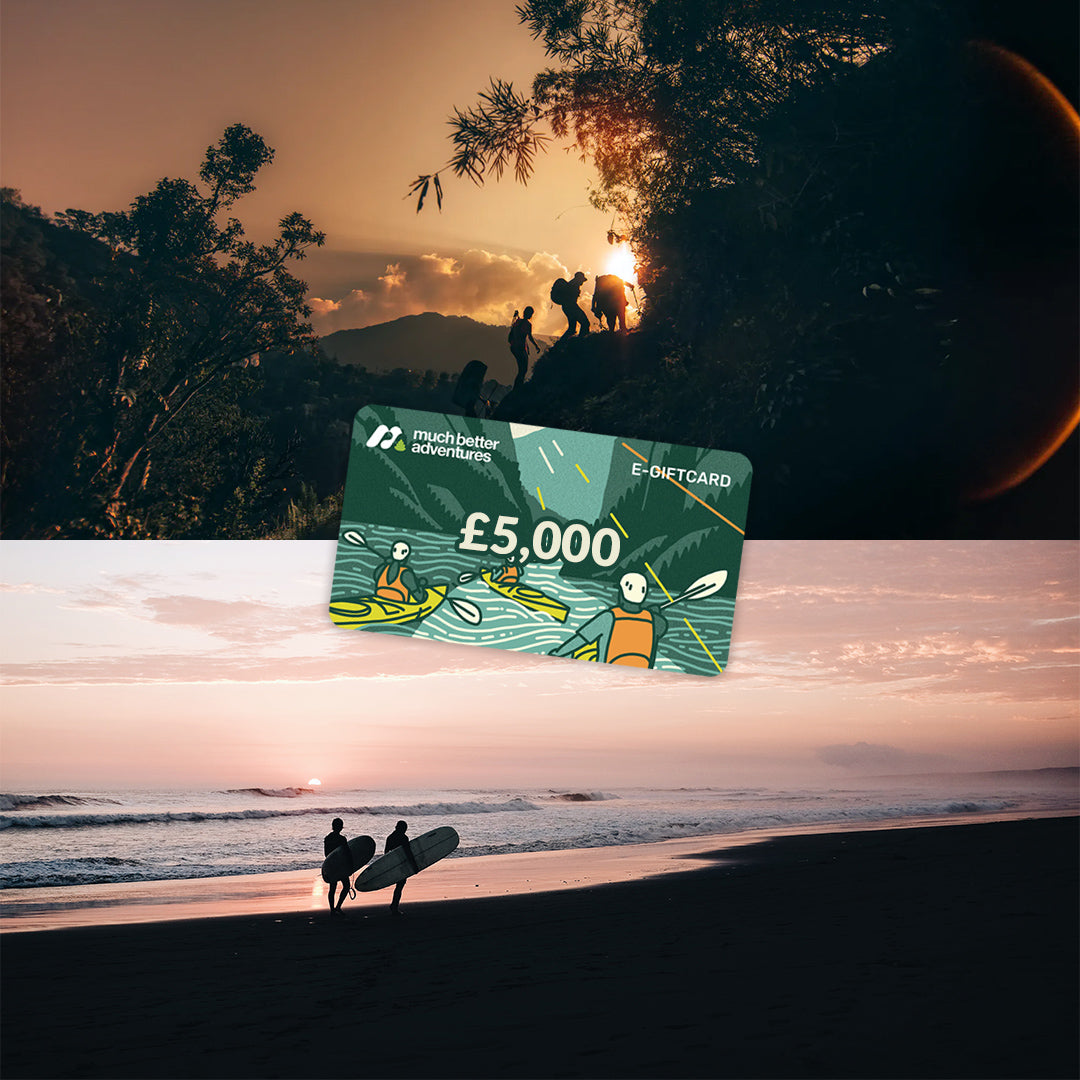 FAQ
When does it end?
Winner will be drawn at 5PM BTS, Monday 14th Nov 2022.

Can I split the £5,000 giftcard into smaller giftcards to give to friends & family as gifts?
Yes, an amazing gift idea.

What kinds of adventures could I go on?
Surfing, Yoga, Hiking, Wild Swimming, Multi Activity, Mountain Climbing, Kayaking, Wildlife Watching, Cycling, Snorkelling, Outdoor Skills, Rafting, Northern Lights, Canyoning, Sailing, Rock Climbing, Dog Sledding, Snowshoeing, Stand Up Paddleboarding, Coasteering.

Explore full list here: muchbetteradventures.com/explore

How is it a year of escapism?
You choose how to spend your £5,000 Much Better Adventures giftcard to create a year of adventure on your terms. Options range from £200 - £300 1 to 3 night stay surfing, hiking, kayaking and wild camping experiences, all the way through to £2k+ 11 night stay expeditions through Costa Rica, Alaska, Patagonia, South Africa and more. You could go on a £400 adventure holiday every month in 2023, or blow it with 2 big once in a lifetime experiences, the choice is yours.

How does Much Better Adventures protect the world's wild places?
Much Better Adventures are a B-Corp company. They work with 100% locally owned, independent businesses, cutting out middlemen, inefficiencies and greedy mark-ups. As a result, customers get better value, and for every $100 spent, $78 on average goes into the local economy. That number is as low as $5 for typical mass tourism (UN study), which is plain criminal.

Is travel included?
For most adventure holidays you just need to show up at the meeting point, which will mean travelling there by your own steam. Meeting points are often airports or the next easiest and most convenient place.

Who is this giveaway open to?
Open worldwide to 18+. Much Better Adventures have guided experiences in Europe, North America, Central America, South America, Africa and Asia.

Open worldwide. You must be 18+ to enter. T&Cs apply.